THE HISTORY AND GOAL OF "MICHAEL OLAF"
In 1983 two teenage girls, with a level of confidence and initiative that surprised even their parents, started a tiny shop to provide high-quality toys and books for children. They named it after the inspiration for the project, their new baby brother Michael Olaf. Today this project serves homes and schools in over twenty-six countries.
Their parents, who are teachers, realized that combining their experiences (the text in their publications and on the website www.michaelolaf.net) with educational materials would make Montessori more accessible to all.
Their product choices help parents and teachers as they sort out what is "essential" in the educational or home environment and what is overkill in toys and materials, dissipating the child's creative energy. Customers are urged to make or to find the suggested materials in their own community, and to order from Michael Olaf what they cannot otherwise provide.
Michael Olaf is a small family business run by a special group of people. Everyone you may communicate with at Michael Olaf is dedicated to making a personal contribution to helping others, to "making a difference."
Today Ursula is spreading the Montessori 0-3 work in Portland, Michael is an attorney in and musician in the San Francisco Bay Area, and Narda, also trained Montessori 0-12, is a PA, physical assistant, in Portland.
---
CLICK HERE FOR THE MICHAEL OLAF STORE: ORDER ONLINE
---
THE MICHAEL OLAF PUBLICATIONS ONLINE
The Michael Olaf publications are available to be read online as well as ordered. Click on the PDF links below. You will then see a table of contents with each chapter listed. Each chapter is a separate document to be viewed or printed. Click the chapter you wish to view.

PDF FILE PAGES:
Click here for Birth to Three: THE JOYFUL CHILD
Click here for Three to Twelve Years: CHILD OF THE WORLD
THE DIRECTORS OF MICHAEL OLAF
Jim & Susan Stephenson are carrying on the work their children began. Today, the Montessori Philosophy and Practice ideas of the 2 publications, which has also been placed free on the Internet, are used all over the world to help children develop to their optimal potential. Jim and Susan are involved with professional and volunteer work in several countries. Above is a picture of them visiting friends in Thailand, at the end of the second session of the Montessori training course in Thailand. The also used Montessori ideas to education their children at different periods of their lives. Here is the story of Michael's HOMESCHOOLING EXPERIENCE.
The Stephensons are not doing this alone. They have been constantly encouraged and supported over the years by teachers, administrators, parents, and by the letters of thanks from many customers who have seen joy and a love of learning brought into the lives of children through this work. They have been informed, and inspired by personal contact with, and lectures by such great educators as Ashley Montagu, Benjamin Spock, Lee Salk, Fred Rogers, Shinnichi Suzuki, Howard Gardner, and Jonathan Kozol. And they are very grateful to be in a position to share they are learn with others.
---
THE CUSTOMERS OF MICHAEL OLAF - WE THANK YOU!
When we first opened the tiny Michael Olaf store in Oakland, and stocked it with the very best and the most beautiful toys, tools and books, many people were surprised at the idea of giving such exceptional quality to small children! We take our hats off to you, our customers, who understand the relationship between showing respect to children and the creation of a respectful society, between giving beauty and the arts to children at a young age, and creating a beautiful world.
Various misconceptions about Montessori philosophy and practice were brought into the store and a dialogue began which has benefited many. It would not be possible to carry out our international work, or to share Montessori wisdom through our publications and websites without the continued support of our customers. We sincerely thank you for joining us, and for supporting us, in this work.
Michael is and has always been a project to help the world become a better place. You can see some of the ways this has been done through Susan's travels and emails send home: BIO OF THE AUTHOR
Blessings,
Jim and Susan Stephenson and everyone at Michael Olaf
---
MICHAEL OLAF MONTESSORI COMPANY
65 Ericson Court, #1, Arcata, California 95521
USA Toll Free ORDER Phone: (888) 880-9235, 9-5 Pacific Time, M-F
Toll Free USA Fax, 24 hours: (800) 429-8877
Regular and International Phone
9-5 Pacific Time, M-F: (707) 826-1557
International Fax, 24 hours: (707) 826-2243
E-mail: Michaelola@aol.com
OPEN WAREHOUSE - ADULTS ONLY
2nd Friday of each month from 1:00 - 5:30 PM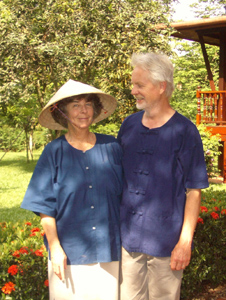 Susan and Jim, at the end of the 2nd session of the Montessori course in Thailand, spring 2007.