In "Aid to Life, Montessori Beyond the Classroom," the author shares stories based on fifty years of Montessori work in thirty countries, first as a teacher of children from 2-18 in Montessori environments, then discovering ways to use Montessori principles in a variety of other situations—all aimed at inspiring, and providing practical ideas, to parents and other educators today. Here are some examples of her stories:
THE VIRGIN ISLANDS
Preparing a group of elementary Montessori students, age 6-12, to run the class on their own, by learning to manage their time and accomplish their goals independently.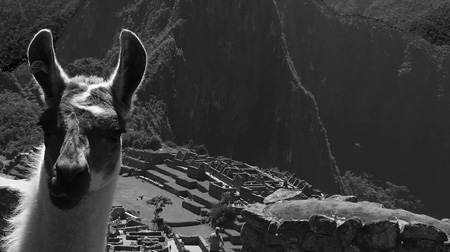 PERU
Learning how to teach "Montessori" in a private, traditional girls school. Discovering the essence of Montessori as there were no Montessori materials available then sharing these practices with the other teachers.
NEWSPAPER COLUMN Q AND A
Applying Montessori in everyday situations by means of a Q and A newspaper column (twenty topics including Self-Esteem, Preparing the Montessori Environment Before Birth, Pacifiers and Swaddling, Weaning, Adults Modeling Behavior for Children, Stress and Children, How Your Child is Intelligent, Television! Passive Observation of Life, Teenage Trouble, Teaching Children to Manage Their Time, Homeschooling a la Montessori)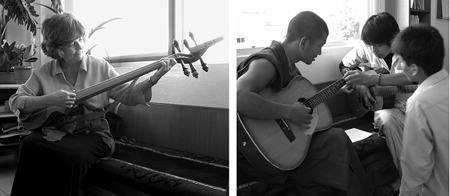 NEPAL
Living with the students, attending the traditional classes, preschool through 10th grade, then applying Montessori principles to improve the education of poor village children in a boarding school in Kathmandu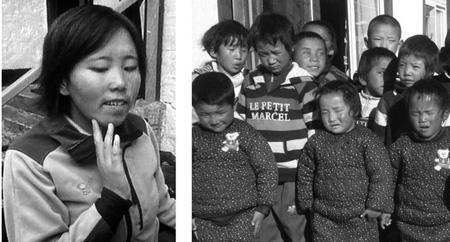 TIBET
Visiting a school for blind children in Tibet, delivering the Montessori teacher training manual brought from the Tibetan Children's Village in India. A simple act that inspired a Montessori-type school for blind children in Lhasa.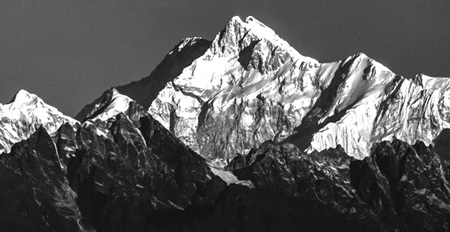 SIKKIM
Meeting with five other Montessori teachers, doctors, philosophers, educators, scientists, and the Dalai Lama in Sikkim to solve the country's educational problems.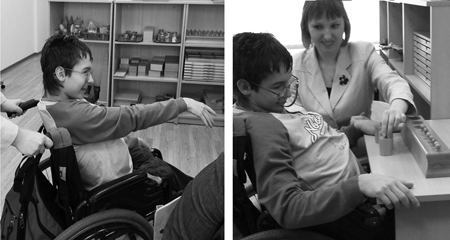 RUSSIA
Visiting a parent-created center in St. Petersburg where Montessori lessons help severely disabled children and young adults in Russia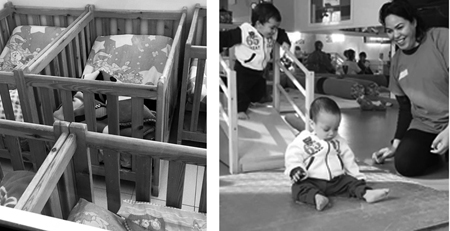 MOROCCO
Initiating a "first Year Montessori project" in an orphanage, helping develop a simple plan using Montessori principles for poor village schools throughout the country. . .
. . . lecturing on physics, botany, zoology, geography, history, art, and music for the first Montessori 3-6 training course in Morocco.
MOROCCO - PRIMARY, AGE 3-6, TEACHER COURSE LECTURES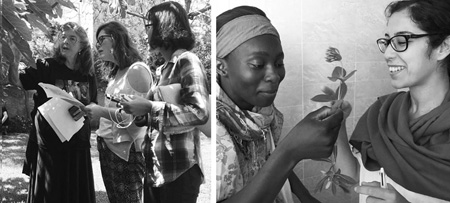 THAILAND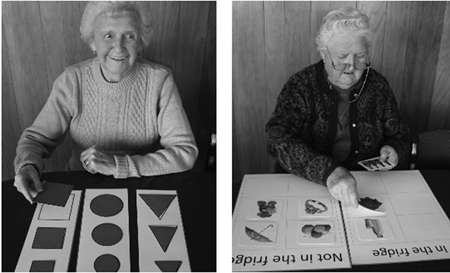 Susan shares two stories from a meeting of Educateurs sans Frontières in Thailand: Montessori help for mothers of babies born in prison in the UK, and for elders living with dementia, a program begun in Australia and spreading around the world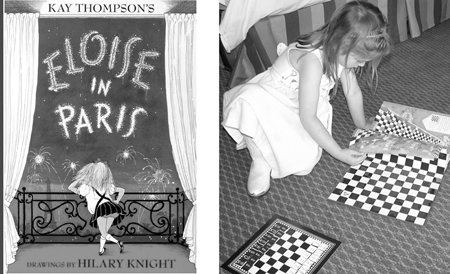 A GRANDPARENT LITERARY EXPERIENCE
Enjoy the chapter describing the author and her husband reliving the book "Eloise in Paris." over a week-end in a hotel during a Montessori conference, with their young granddaughter. The story is dictated by the four-year-old, and it is often used in Montessori teacher-training courses when learning about language expression.
MONTESSORI IN THE HOME
Near the end of the book the author shares some of the solutions based on consultations with schools—and conversations with parents today—due caused by the unique situation of remote learning due to the pandemic.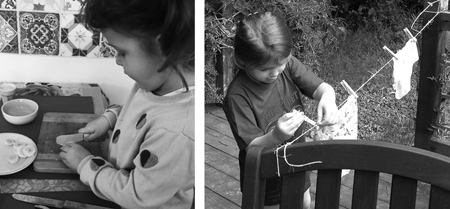 AT HOME, Age 0-6
Susan gives suggestions on handling frustration and tempers, the value of clear limited setting, and welcoming the child into the daily work and activities of the family. Also shared is an understanding of the value of protecting concentration, providing opportunities for children to be helpful and feel needed, and how to share the family ethics, morals, and even religions, in age-appropriate ways.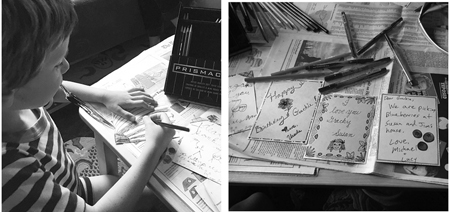 AT HOME, Age 6-18
She explains the Montessori concepts of cosmic education and beginning the search for one's cosmic task—a goal of meeting one's own needs while contributing to the the whole—that is so important at this age. She discusses homeschooling, the reasons and variety of methods, and her own experience of guiding her son's self-chosen twelve years of homeschooling without materials or grades, but following interests, and learning to manage time, set and meet goals, and care for others.
VISITING A MONTESSORI CLASS IN LONDON and
A day-long observation of an authentic 3-6 Montessori class. This chapter has been shared by Montessori teachers around the world.
STAGES OF DEVELOPMENT
The author explains how a Montessori education is completely different for birth-3, 3-6, 6-12, and 12-18. Learning is based on the needs and tendencies of human beings at different ages and planes, or stages of development. As a result education becomes a joy. There are practical examples for parents and teachers.
RESOURCES AND BOOKS
In this section, there are links to many of the projects described in the book, and there are links to Montessori initiatives such as Educateurs sans Frontières (the organization referred to in the Thailand chapter, Montessori for Dementia, the Montessori course for teaching adolescents, Montessori sports, MMUN, the Montessori Model United Nations, and more.

There are also details about the author's seven previous books, each one presenting Montessori with practical examples from a unique perspective.
It is difficult to raise the child in fast changing and overloaded with information world of ours. This book will change your life and your child's life. Susan always finds the way to explain complex yet essential understandings of human life—the importance of unconditional love, service, intelligence, and true joy—in such a simple yet glorious way. This book explains the unlimited possibilities that Montessori philosophy offers to humankind. Thank you for bringing this precious book to the world and helping many to find and maintain simple joy and meaning in our lives.
—Tsolmon Namkhainyam, Mother, Environmental Scientist, Head of the AMI Montessori Affiliate in Mongolia
Susan is a living inspiration, her life experience, her wisdom and her loving kindness, which she easily transmits to everyone in her talks and books. The whole book is a jewel, full of wisdom and practical advice. The chapters on self-esteem for children, and how to use the Montessori ideas at home, and parents modeling, are truly beautiful and useful, not only for parents, but also for anyone interested in human development, and in fostering respect and care for nature, and understanding and compassion toward others.
—Juan Sebastián Hoyos, Deputy Head, Gimnasio Moderno, Bogota, Colombia. A school inspired by the founder's friendship with Maria Montessori and her son Mario.