The Joyful Child:
Montessori, Global Wisdom
for Birth to Three
Already in its second edition!
by Susan Mayclin Stephenson
Introduction by Silvana Montanaro, MD

260 pages, 160+ black and white pictures
from the author's work with children around the world


---
Also available from Amazon USA, Amazon in other countries,
and from Montessori organizations and suppliers

ISBN 978-1-879264-10-6
$19.95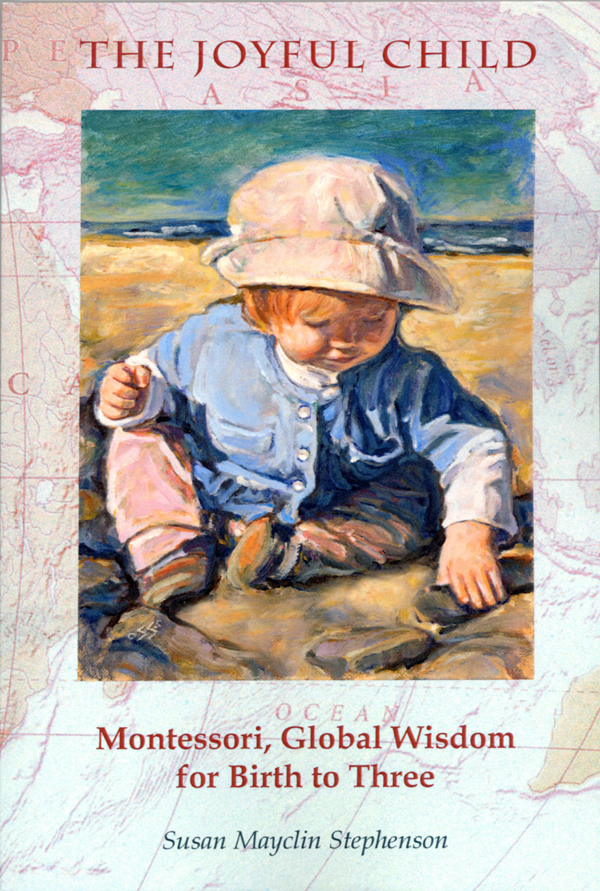 I believe that our main purpose in life is to find happiness, and helping others is a sure way to fulfill this purpose. The human infant first experiences love and compassion through its mother, and people who receive maximum affection in these early years have less fear and distrust for the rest of their lives, and are more compassionate toward others. Montessori is wonderful in this way.
—The Dalai Lama, Dharamsala, India
Susan Stephenson's latest book truly reflects the spirit and purpose of Montessori in a way that makes the philosophy translatable to both new parents and veteran Montessorians. Susan's passion for the pedagogy, her extensive experience, and her world travels resonate as she explores the universal, emotional, and psychological depths that construct the child's development.
—Virginia McHugh, Executive Director
of The Association Montessori International USA
BACK TO SCHOOL SALE OF
MONTESSORI TOYS, BOOKS, AND OTHER EDUATIONAL MATERAILS!
AGE 3-6: AGE 3-6
AGE 6-12: AGE 6-12

---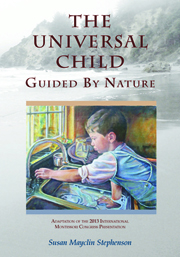 Newest Book:THE UNIVERSAL CHILD
GUIDED BY NATURE Adaptation of the 2013 international Montessori Congress Presentation:
Universal Child
TABLE OF CONTENTS
Introduction, Silvana Montanaro, MD

PART ONE, The First Year
The Senses
Reaching Out and Grasping
Sitting Up and Working
Crawling, Pulling Up, and Standing
The End of the First Year: Unique Development and the Child's Self-Respect

PART TWO, AGE1-3
Care of Self, Others, and the Environment
Toys and Puzzles
Music
Language
Art
People
Plants and Animals
Physical Science and Math
PART THREE, THE ADULT
Age 0-3: Preparing the Environment
Age 0-3: Parenting and teaching
APPENDIX
How I Weaned Myself (A Child's Perspective)
Comparison of Montessori Assistants to Infancy Practice and Birth-Three Traditions in Bhutan
Maria Montessori
The Assistants to Infancy Program
About the Author
Acclaim for The Joyful Child and Child of the World
The Joyful Child adds so much to our Human Development class. Its use brings alive the imaginative challenge of thinking about parenting, and it guides adolescents to think kindly about themselves and others.
—Ann Jordan, Montessori School of Lake Forest
Susan Stephenson embodies Montessori principles in prose so clear and simple that anyone with an open heart can apply them to their culture. In this guide to the first three years of life, she describes what a baby needs and how easily we can meet those needs if we observe and respect what he teaches us. This is an inclusive book for every new parent and earlier versions have been translated into six languages
Teachers and administrators at all levels will see preschool, elementary, and adolescent students with new eyes when they understand the potential of children in the first 3 years of life.
—NAMTA, North American
Montessori Teachers Association
I think this is a very important book that every parent, and everyone thinking of becoming a parent, should read.
—Lucy Allen, UC Berkeley Law Student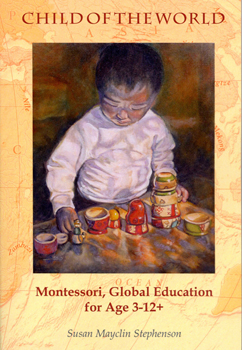 Companion Book: Child of the World: Montessori,
Global Education from Age 3-12+: Child of the World
Past Michael Olaf Newsletters
#2 Montessori Art, Jan 2010

#3 Cultural Geography, May 2010

#4 Parenting/Teaching, August 2010

#5 The Home Environment, Nov 2010

#6 Montessori in Sikkim, Jan 2011

#7 Montessori Math, April 2011


#8 Compilation 2009-2011 News, May 2011

#9 Grace & Courtesy, Aug 2011
#10 Montessori Biology, May 2012
#11 Practical Life/Real Life Today, Aug 2012
#12 Happy Children for Holidays, Dec 2012
#13 New Book: Child of the World, Mar 2013